Corne Wireless Partially Assembled PCB
Regular price
Sale price
$35.00 USD
Unit price
per
Sale
Sold out
Get Notified When More Arrive
Success! You'll be notified via email when we have more in stock.
Free $25+
Free shipping
on $25+ orders
Originally designed by foostan, the Corne has become the most popular ergonomic split keyboard for DIY keyboard builders. Typeractive has brought a custom wireless version featuring partial assembly. Soldering is still required for the nice!nanos and nice!views.
Not sure what you need to purchase for the kit? Use our 3D kit builder.
Shared features of the variants

Compatibility with nice!view displays

Power switch
Battery Jack
Kailh hotswap sockets
Pre-soldered diodes, hotswap sockets, battery jacks, power switches, reset buttons
Cross-hatched PCB design
Thoughtful and aesthetically pleasing trace routes
Differences between the MX and Choc variants
The MX variant only supports MX switches and the Choc variant only supports Choc V1 switches
While the MX variant maintains the dimensions of the Corne V3 PCB, the Choc PCB has totally different dimensions and utilizes Choc spacing (18x17mm). The Choc PCB is therefore more compact
The Choc variant has a breakoff column allowing for a 5-column build. The MX variant does not
nice!nanos and nice!views still require assembly by the user
Share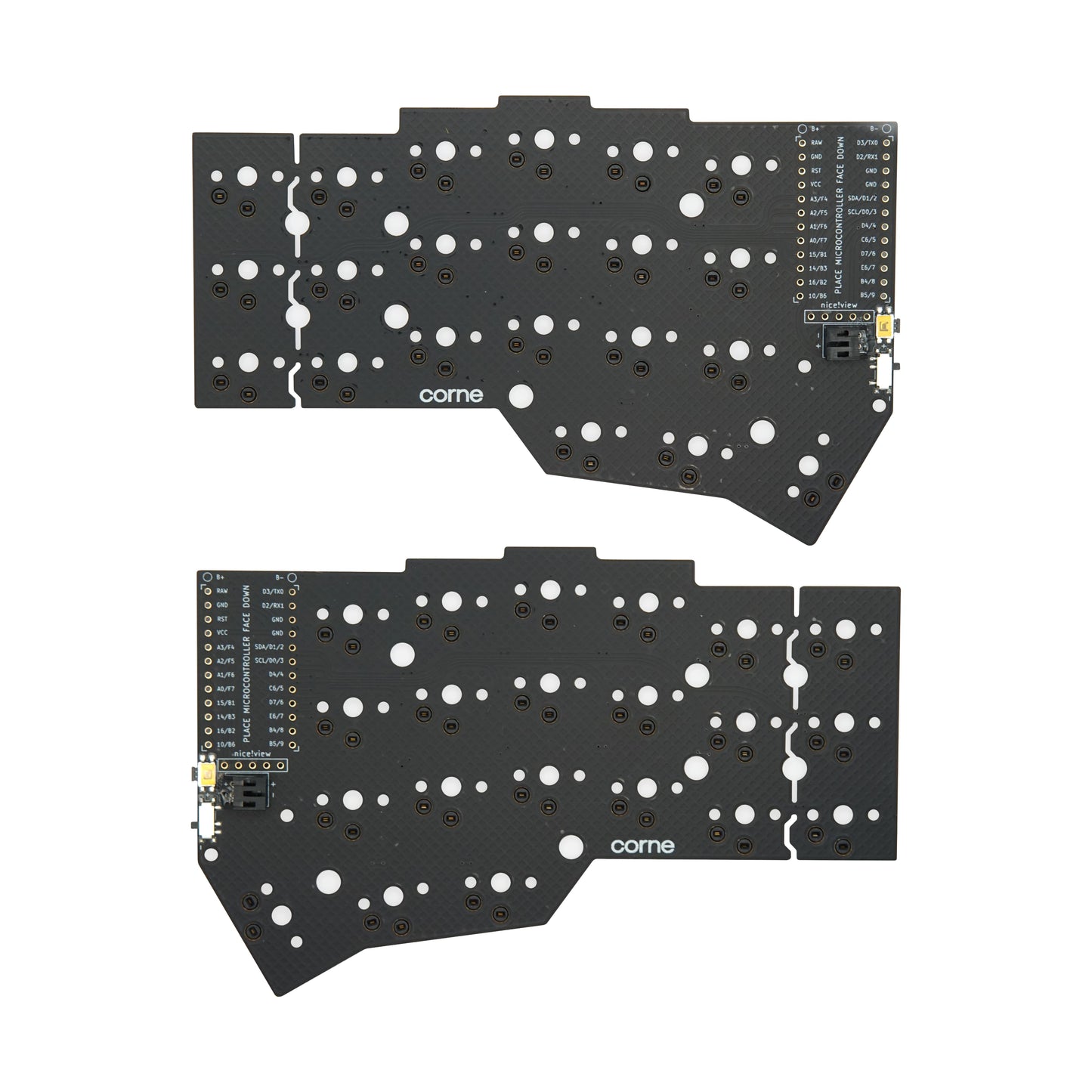 Great kit, everything's perfect.
Great kit with thorough documentation!
Great Kitw
Customer Service was great when I had an issue with my order. I would buy again if I need another kit or parts. Love my Corne Keyboard. Putting it together was simple with all the parts from typeractive. I opted to 3d print my case and keycaps and used the FR bottom plate which is really sturdy. :)
My short journey from macbook keyboard to Moonlander to corne
I used macbook keyboard for the last 10 years until one day I saw moonlander keyboard. I realized that keyboard can be different. I decided to give it a try. It went pretty well, but there is only a small problem. I am not comfortable moving my finger between the right side keyboard and the trackpad because the key position is pretty high. That's the reason why I switched to corne. The soldering was not hard as I thought, but the battery connector is painful to work with, as I bought it from a third party seller. Anyway, I assembled the corne keyboard and I have used it for over a month. Now I can say, it's working pretty well (most of the time) and there is almost nothing I want to change.