Lily58 Wireless Partially Assembled PCB
Regular price
Sale price
$35.00 USD
Unit price
per
Sale
Sold out
Get Notified When More Arrive
Success! You'll be notified via email when we have more in stock.
Free $25+
Free shipping
on $25+ orders
Originally designed by kata0510, the Lily58 has become a staple of the community for its compact, number-row-included design. Typeractive has brought a custom wireless version featuring partial assembly. Soldering is still required for the nice!nanos and nice!views.
Not sure what you need to purchase for the kit? Use our 3D kit builder.
Shared features of the variants

Compatibility with nice!view displays

Power switch
Battery Jack
Kailh hotswap sockets
Pre-soldered diodes, hotswap sockets, battery jacks, power switches, reset buttons
Cross-hatched PCB design
Thoughtful and aesthetically pleasing trace routes
Differences between the MX and Choc variants
The MX variant only supports MX switches and the Choc variant only supports Choc V1 switches
While the MX variant maintains the dimensions of the Lily58 Pro PCB, the Choc PCB has totally different dimensions and utilizes Choc spacing (18x17mm). The Choc PCB is therefore more compact
nice!nanos and nice!views still require assembly by the user
Share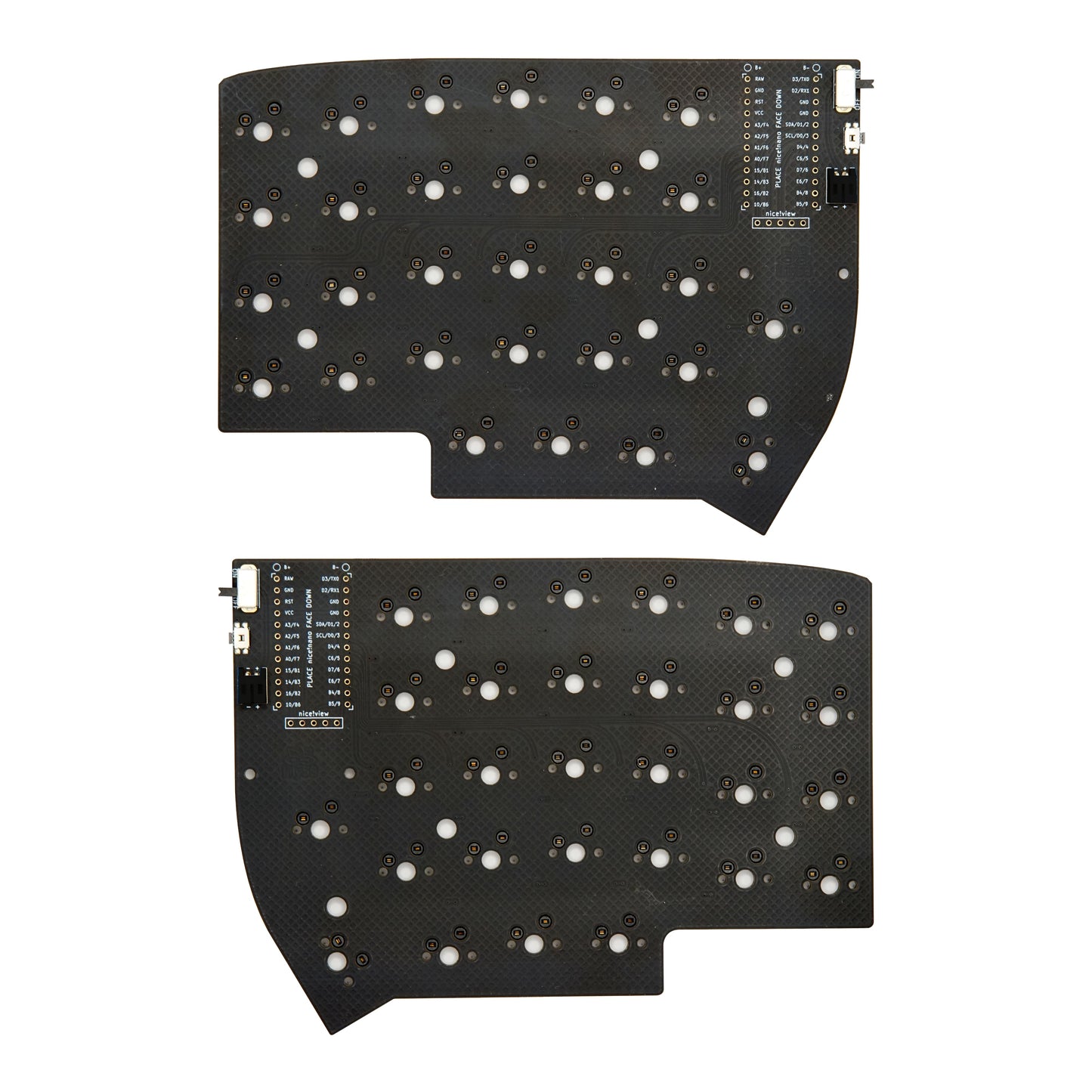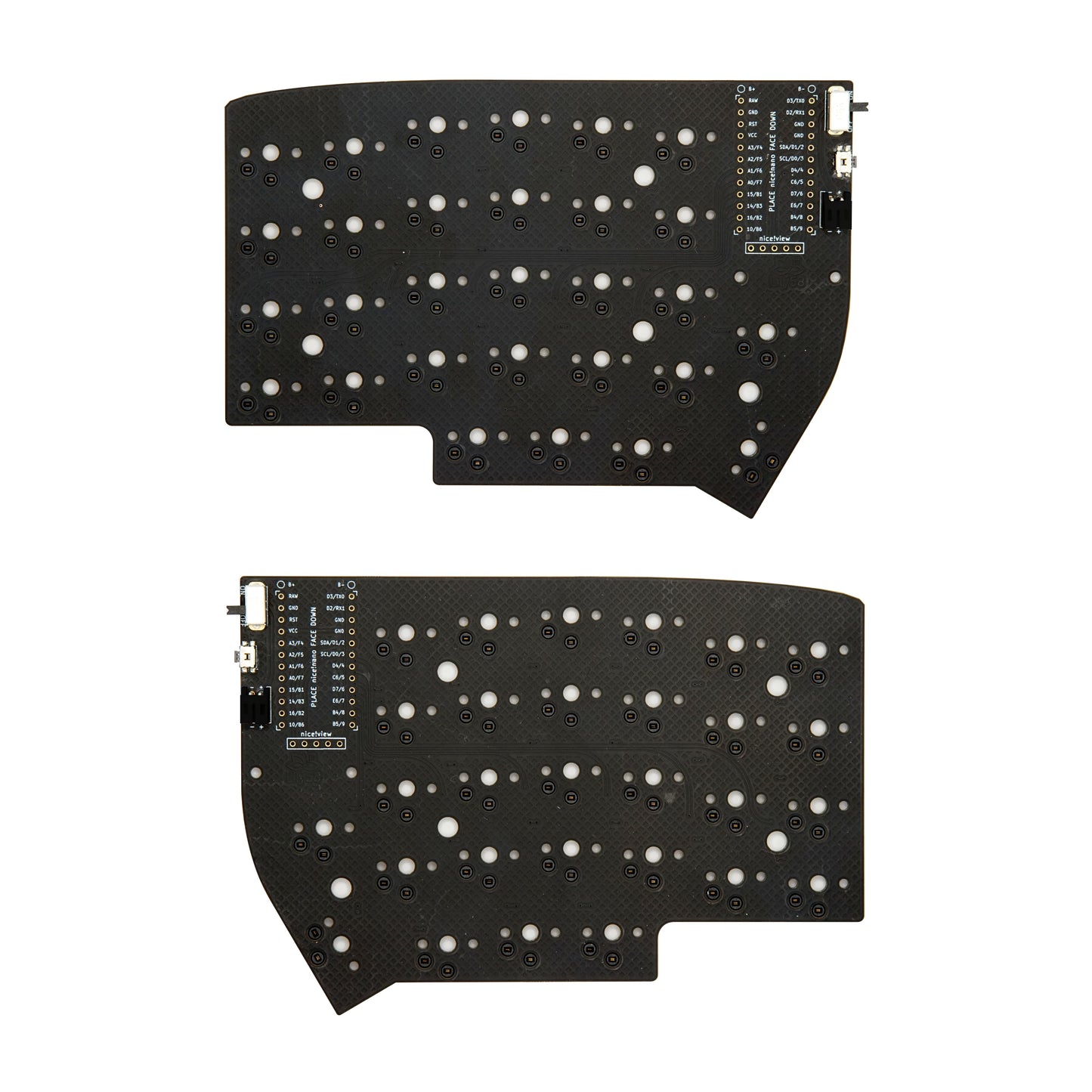 Excellent Kit and Top Customer Support
I ordered the Lilly58 kit as my first split keyboard and first DIY kit. It's significantly cheaper going DIY for splits and this kit makes the DIY experience very easy. Sure I made some silly mistakes which slowed me down, but if you'er careful the whole build process can be done in just a few hours.
Typeractive.xyz have created a beginner friendly and feature rich kit. Not only is it easy to put together but it also includes the low power screens and solid bluetooth connectivity. The screens are very useful - out-the-box - both for tracking connectivity and showing you which layer you're on. They don't run the battery down either.
Typeractive.xyz contacted me soon after my order had shipped. They said that there *might* be an issue with the nice nanos. They weren't sure, but sent me out two more just-in-case. It turned out the nanos were fine, so I can only praise them for their customer service. And I have a couple of spare Nanos :)
I've spent much much longer tinkering with keyboard layouts and I think this is where going DIY can make things a little harder. The ZMK firmware is very good, and there is a very good GUI that can help, but I've still spent a lot of time getting a half-decent layout setup.
I have no regrets buying this kit, however. It's been a joy to setup and use, has features which are hard to find anywhere else. And was reasonably priced too!
Fantastic
Was very easy to build. One part showed up damaged; Support was extremely fast and helpful.
Amazing product
Great, really ez to put everything together and have a fully functional keeb. To be perfect, only open sourcing the PCB and the case. :)
Great keyboard
Came in perfect condition! want beat the price for almost a rebuild like this and great quality!